Why are chest freezers more efficient?
Views:0 Author:Site Editor Publish Time: 2020-07-15 Origin:Site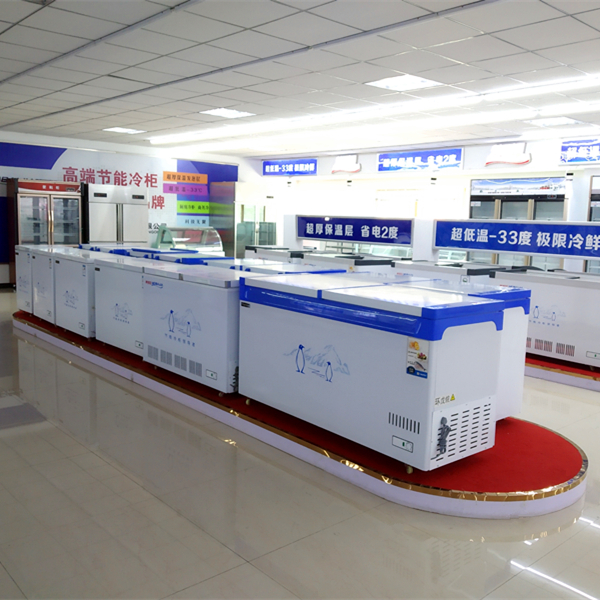 The chest freezer is one of the more popular freezers on the market, but how do you know if it's really right for you? What's the difference between chest home freezer and vertical freezer? Are chest freezers really more efficient?
You should choose a chest freezer or a vertical freezer

How to choose a chest freezer?

How to use a chest freezer to save energy?
Should you choose a chest freezer or a vertical freezer?
The most effective type of freezer is the chest type freezer. This is because the chest freezer opens from the top and cold air (heavier than warm air) does not escape easily from the chest freezer. The weight of the lid also helps seal the freezer. chest freezers are 10 to 25 percent more efficient than vertical freezers.
Advantages of chest freezers: except for removable hanging baskets or sometimes dividers, chest freezers are open, so they provide more usable space than vertical chest home freezers. These models are also more energy efficient and are less likely to cause food to be frozen. Because they don't thaw automatically like columns, the temperature stays low. They are also better options if your area is prone to power shortages or power failures -- they tend to keep food frozen longer when the power is off. We found that they tend to be quieter than self-thawing columns.
Cons: despite the hanging basket, the chest type freezer is more difficult to organize than the vertical model, and it's easy to retrieve items buried near the bottom of the chest freezer. They also have a larger footprint than the equivalent vertical model - the 22 cubic feet chest home freezer takes up 2 by 6 feet of floor space, while the equivalent vertical requires 2 x 2. Manual defrosting (which can be time-consuming) is the only option. Price: from $200 to $1,500.
Advantages of a vertical freezer: the columns take up -2 square feet of less storage than a chest freezer -- 22 cubic feet of storage -- while the chest usually has only 2 x 6 inches. They are also easier to organize. Like chest freezers, shelves and trash cans inside and on doors make it easy to find items. You can choose to defrost manually or automatically. Please note that manual defrosting takes several hours and you must empty the chest type freezer. However, the self-thawing freezer allows for a temporary increase in temperature, which may affect performance. Also, unlike chest freezers, the columns are available in a variety of finishes, such as SLATE and stainless steel.
Cons: in our tests, the manual defrosting column had a hard time keeping its doorstand as cool as the rest of the room. These types of shelves also cannot be adjusted to improve storage efficiency. Self-thawing columns tend to be noisy and may be more expensive to run. They also allow more air to circulate around the food, making it easier to burn in the freezer. In our power failure simulation, all the columns allowed a relatively large temperature rise after only 9 hours. And of all the columns, shelves and bins take up more space (up to 20 per cent) than freezers. Price: usually higher than a chest freezer, from $300 to $2,000.
How to choose a chest freezer?
Free-standing freezers used to be a utility, with their simple design and open interiors making it difficult to keep food organized. These quasi-system freezers are still available - many of them are well done in our freezer class - but we've also seen a lot of improvements in the look and function of the chest freezers. Before entering a store, consider the following:
1. Position. If you plan to keep a chest home freezer in the living area, consider its noise (and appearance). Most manufacturers say their freezers can operate in rooms with temperatures up to 110 degrees Fahrenheit, but if you plan to keep them in an unheated place (such as a garage), check product specifications.
2. Resize. chest freezers or upright chest freezers come in three basic sizes: compact or small (5 to 9 cubic feet), medium (12 to 18 cubic feet), and large (over 18 cubic feet). The equivalent storage space of vertical freezer occupies less space.
3. Power outages resume. Most manufacturers say their freezers can fully freeze food for 24 hours with the power off as long as the fridge is not open. But our tests simulating long outages showed that some columns allowed a relatively large temperature rise after only nine hours.
4. Consistency. Most of the freezers we tested kept the same temperature. Manual defrosting columns are an exception. Without fans to circulate cold air, indoor shelves are 9 to 19 degrees hotter than other chest type freezers.
How to use a chest freezer to save energy?
1. Keep chest freezers in a cool place, such as a basement, where temperatures tend to be well below room temperature. Even though most manufacturers say the model can operate at temperatures up to 110 degrees Fahrenheit, check product information for specifications.
2. Reduce frost. Reduce the frequency of opening LIDS or doors. Keep a list of internal contents so you don't have to look around. Label food for the same reason.
3. Store food correctly. Repackaging in several layers of plastic wrap helps reduce moisture loss and freezer burns. Some common freezing rules of thumb: you can freeze ground beef for four months and whole chicken for a year. A pack of hot dogs will only stay frozen for a month or two.
Chest type freezers are more economical and practical than vertical freezers, so chest freezers are the right investment for people who like to store lots of fresh ingredients. If you want to buy high-quality chest freezer with reasonable price, Meibaijia Electrical Technology Company can provide you with the best products.