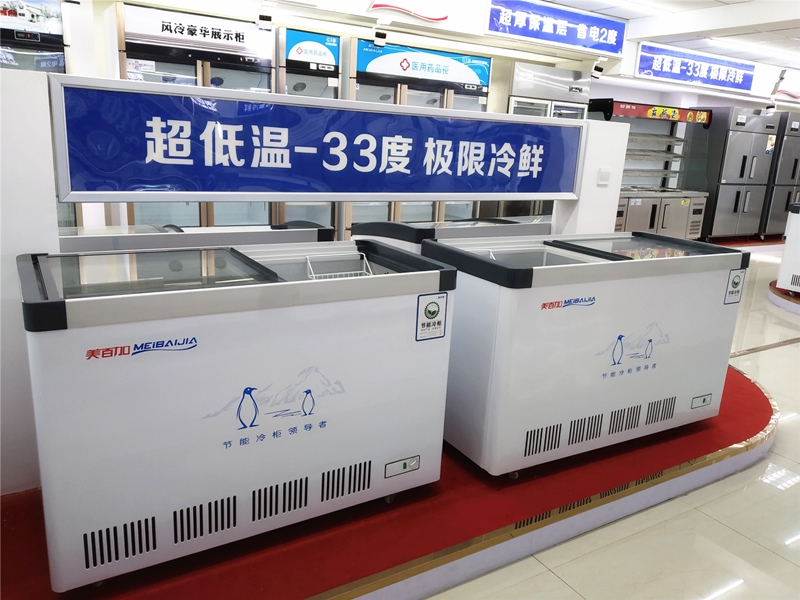 Introducing food preservation. Human life is simpler or more comfortable, and the catering industry would be completely different without a freezer. There is no doubt that the chest freezer is one of the most popular and easiest ways to freeze food. What is a chest type freezer? What is the function and speciality of the chest home freezer?
What is a chest freezer?

Advantages and disadvantages of chest freezer

Where should the chest freezer be placed?

Many uses of chest freezer

How to organize chest freezer?
What is a chest freezer?
Chest type freezer is the most affordable refrigerator. Essentially, every inch of chest freezer is available storage space. Although there are several models of freezers with automatic defrost (no frost), most freezers have a manual defrost mechanism. This task can take several hours or even a whole day to complete. Thanks to its built-in and effective side wall insulation, most chest freezer cabinets maintain their freezing temperature well. As a result, they consume less energy. Depending on the quality of frozen food, during a power outage or transfer to another location, as long as the lid of the freezer compartment is kept closed, an unplugged chest freezer can freeze its contents for up to two or three days.
Compared to a vertical model, a manual chest freezer typically has a longer life. The latest models of freezers come with drawers and trash cans, which are sometimes color-coded to allow you to organize your contents neatly inside. Some high-end models of chest freezer units are even equipped with internal LED lighting to help illuminate the storage space evenly and brightly. Chest type freezers are wider and shorter than other types of refrigerators.
Advantages and disadvantages of chest freezer
There are many benefits to having a chest freezer compared to other types (for example, a vertical freezer). Chest freezers take up minimal space and provide a suitable table top surface. Chest freezers tend to be lower and wider. You can store them next to any desktop surface to increase space utilization.
Also, if you want to freeze food that you don't need soon, it's usually best to use a freezer. They are also great for storing large amounts of meat or vegetables that are not needed during a busy day. The chest home freezer can be stored long-term and can be your companion for long-term freezing. Another great reason to choose a chest freezer is that it is more energy efficient than other models. They are more compact than other types of freezers, so they are usually available at a more economical price. The chest freezer has various compartments, which is very suitable for storing different types of food. In summer, they are perfect for children who need to use a variety of frozen foods such as popsicles and ice cream on a regular basis.
Chest type freezer also comes in many different styles. Some of them are frost-free, making them comfortable in the long run. Refrigerator burns can occur when ice crystals form on the outer surface of frozen food. As a result, the affected food may taste bad and produce an unpleasant or rough texture. Since the freezer-freezer model prevents ice crystals from forming on the surface of the storage area, it prevents frost on stored food. In addition, packaging food in plastic-coated frozen paper, polyethylene bags or durable aluminum foil can further protect food from any cold damage. Similarly, there is no frost on the food packaging, which means your labels will be clearly visible and the frozen packaging will not stick together.
Customers should also keep in mind some disadvantages of chest freezers. Most vertical freezers are designed with horizontal and complete layouts and require more floor space than vertical freezers. Because chest chests are much lower and have very deep storage cavities, it can take a lot of awkward bending and fondant to find specific food content. If you purchase a chest home freezer with a manual defrost option, a lot of routine maintenance will be performed to eliminate frosting. This can be a lengthy and tedious chore that requires a lot of energy to complete.
Where should the chest freezer be placed?
Before you explore and buy new equipment, find the right location for your freezer. It's best to find plugins in a cool, dry place nearby. It is also important to ensure that there is enough space to allow the door to swing completely, which obviously depends on the type of freezer you buy.
If you are buying a vertical refrigerator, you must also consider the direction in which the refrigerator door opens, and any height requirements for the vertical or chest models. Or a sunny location will force them to work harder to maintain the desired internal temperature. An efficient refrigerator placed in the wrong place can make you spend more on electricity. In addition, this may reduce the expected life of the device. The intended location of a refrigerator will usually determine the size and type of refrigerator you can buy. Zh
Also, when it comes to the size of your freezer, keep in mind that oversized or bulky freezer is difficult to remove from places like basements. And, even without a top door, it's tricky to operate these refrigerators through medium-sized doors. Placing a refrigerator in a garage is not ideal, as temperatures typically drop below 10 ° C, and many refrigerators do not work properly under these conditions.
Many uses of chest freezer
1. With a chest freezer, you can do more than just store TV dinners and make ice. From laundry to handicrafts, here are some great ways to get the most out of your refrigerator.
2. If you keep it in the refrigerator as soon as possible, the last effort may be successful! Temperature shocks can stop overcooking immediately, preventing food from composting.
3. Various sauces, such as pesto and marinara, broth, wine, broth, buttermilk, can be quickly frozen. They are ideal for placing food in your kitchen, and chest freezers make it all possible.
4. Storing unused NiCd and NiMH batteries in a chest freezer can greatly extend their useful life. Similarly, if you put standard alkaline batteries in the refrigerator, they will last longer. However, before using them, make sure to return them to room temperature.
5. A refrigerator can also kill those pesky bugs if you follow specific instructions (for example, to ensure that the chest home freezer maintains the best cold wave and store items long enough).
6. Lipsticks can be stored for a long time when stored in a cold environment. So your chest freezer is one of the best places to keep it! Keep them fresh and beautiful in your refrigerator for as long as possible.
7. Before sharpening the pencil eyeliner, leave it in a chest freezer for about ten minutes. This will ensure sharp and precise points. There is an amazing way to soothe sunburn. Freezing aloe in an ice cube tray is the best way to reduce pain.
How to organize chest freezer?
1. Use very advanced FIFO inventory. Make sure to use the oldest food in the refrigerator first. This means you will have to track content and rotate them regularly. Keep a simple checklist for your refrigerator in a convenient place and urge your family, especially kids, to use it.
2. Containerization is the favorite technique of most organization masters. Convenient when placing freezers in order. If your chest home freezer does not have multiple bins, boxes and baskets, you may need to supplement them with your own purchases.
3. Putting whole packs of chicken in the refrigerator can be very tempting. However, if you only need a few steps to realize that the entire process is frozen, you will soon regret this shortcut. It's best to spend some time dividing the ingredients into smaller usable parts, such as a pound of beef or six pieces of chicken, and then freezing the different parts in separate freezer bags or containers.
4. Try to freeze the item as flat as possible. Place the remaining chili or brown rice in a freezer bag, seal, and place the bags flat in the freezer until frozen. Flat objects of uniform thickness can be easily organized or stacked in containers.
5. Color-coding different items makes it easier to find what you need: white for poultry, red for meat, and pink for fish. With the right tags, huge inventory and efficient organization, you will find what you need, wherever you are.
In general, chest freezer is one of the energy-saving and convenient home appliances. If you want to buy high-quality chest freezer with reasonable price, Meibaijia Electrical Technology Company can provide you with the best products.