What do the stars mean on an under counter freezer?
Views:0 Author:Site Editor Publish Time: 2020-10-27 Origin:Site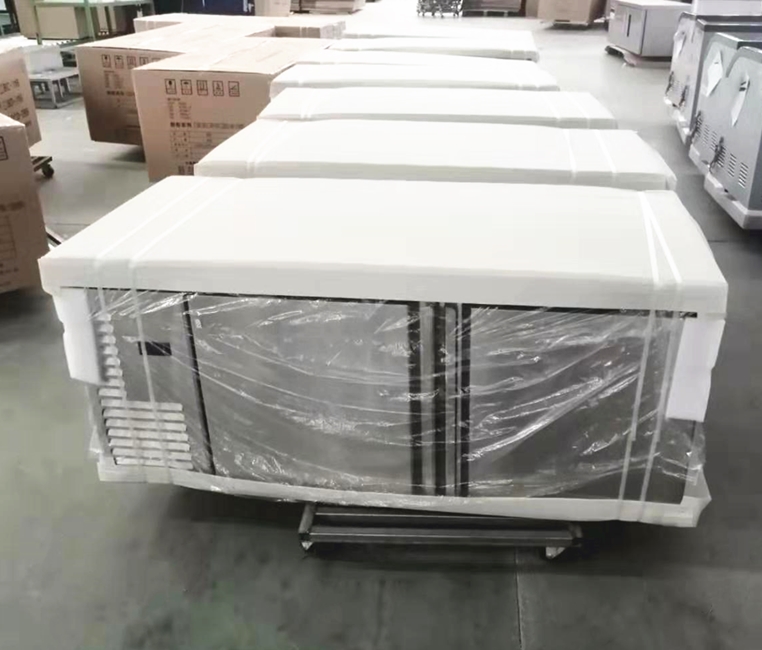 The under counter chiller allows you to store food and keep it fresh for a long time, which makes them a necessity for many homes. Before you buy an under counter freezer, you must be aware of some issues so that you can purchase the model that best suits your needs and lifestyle. For example, what does a star rating on an under counter freezer mean? What features should I pay attention to when purchasing a freezer?
What does a star rating on an under counter freezer mean?

What features should I watch out for when buying an under counter freezer?

Which type of under counter freezer should you choose?
What does a star rating on an under counter freezer mean?
Four star freezer rating. If the star rating of the under counter chiller is four stars, it means it can store foods as low as -18 ° C, freeze fresh produce and store goods for up to 12 months. The maximum storage time depends on the type of food and the latest storage date. You may also encounter one, two and three star freezer. One-star models are usually just ice boxes in an under counter freezer. They keep food at -6 ° C and can store food before freezing for up to a week. The two-star under counter freezer can freeze food at -12 ° C, and can store pre-frozen food for up to a month. The three-star freezer can reach a temperature of -18 ° C and can store pre-frozen food for three to twelve months. Only four-star freezers are suitable for frozen fresh food – keep this in mind if you want to freeze leftovers, unused ingredients or extra items from those irresistible "buy one get one free" offers.
What features should I watch out for when buying an under counter freezer?
Keep food fresh and functional. Freezing your favorite foods is a convenient way to lock in freshness, flavor and nutrition. You can also save money by freezing leftovers or buying in bulk. But did you know that not all under counter chillers are equally good at storing food? The quick or quick freeze feature is designed to lock in vitamins and nutrients more effectively, so you can be sure that frozen fresh food will maintain its good results. The quick freeze setting is especially useful when you want to freeze large amounts of fresh food at one time. With this feature enabled, the temperature of the freezer will drop, which will cause food to freeze faster. Some models can turn this setting off automatically, so you don't have to worry about forgetting. When fresh food is quickly frozen, smaller ice crystals are formed than when frozen without the feature enabled. This means that when you later thaw food, its quality will be higher. Quick freezing also helps foods retain their original delicious texture. So you can freeze anything from meat to bread without having to worry about them thawing. Quick freezing also helps foods retain their original delicious texture.
Power cut safety function. Many under counter chillers have useful power-down safe storage features. This keeps food frozen in the event of a power failure, so you will have time to fix the problem without having to worry about the food thawing. Shelf life varies by model, so be sure to check before purchasing.
Which type of under counter freezer should you choose?
1. Select the size you need. Check the free space in your home to determine the size of the freezer you should buy. You should also consider home size and shopping habits to determine the best under counter freezer for you. If you tend to buy a lot of frozen items, consider using a larger freezer. If you mainly buy fresh food, a smaller freezer may be better for you.
2. Determine if you want frost-free varieties. The under counter chiller has manual and automatic defrost options. Automatic defrost freezers consume more energy when they complete the refrigeration and heating cycles to prevent frost from accumulating on the underfloor freezer wall. A manual defrost freezer requires that you remove the contents of the freezer and unplug the power plug to melt the frost and drain it through the plug at the bottom.
3. Select the other features you want. Many freezers also offer other options, such as interior lighting, freeze locks, ice makers, and more. You can also choose a freezer with a temperature alarm or a soft frozen section like ice cream. Make sure you find the most useful features, and then select the under counter freezer that comes with these options.
4. Compare energy efficiency. In general, chest freezer is more energy efficient, because hot air escapes every time the door of the standing model is opened. If energy efficiency is important to you, choose an under counter freezer with an Energy Star rating. Not only are these better for the environment, but they can save you an average of 7-10% in energy costs over a year.
5. Read product reviews. One of the best ways to choose a new device is to see what others have to say about it. Do an internet search to find reviews of several models you are considering to determine if other buyers are happy with their purchase in the long run. Look for reviews discussing faults, storage configuration and ease of use.
6. Compare prices for the same model. Now that you have selected the best underfloor freezer for you, it is time to find the best price. Visit multiple appliance retailers in your area and compare their prices based on the model you want. You can also search the freezer on the Internet to see if you can find a better price online.
7. Assess warranty policy. One of the most important parts of buying a new underfloor freezer is ensuring a good warranty. Putting some dough on a new device just makes it fail or break after a few months, which is never fun. Get copies of warranty options from several retailers to determine which one has the best policy.
8. Find out if free shipping and shipping. If you have an existing freezer, you need to delete it to make room for a new freezer. Contact several retailers in your area to find out if there are charges for moving old underfloor freezers and / or delivering new ones. Select a retailer who will delete your old freezer and provide a new freezer for free to avoid adding high costs to your bill.
The more meticulous research you do before you buy equipment, the less likely you are to buy an undesired under counter freezer.If you want to buy high-quality under counter freezer with reasonable price, Meibaijia Electrical Technology Company can provide you with the best products.