Does an under counter chiller work better when it is full?
Views:3 Author:Site Editor Publish Time: 2020-06-22 Origin:Site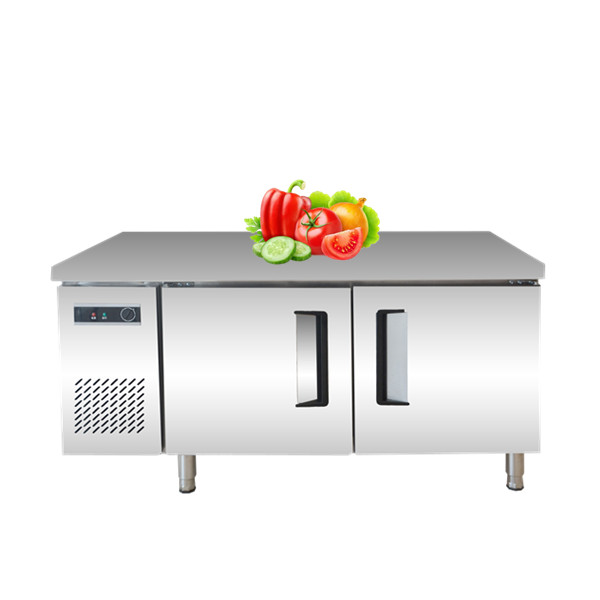 For novice appliances, how to use the under counter freezer can save energy is a difficult problem. What should be the state of the underfloor freezer during operation? What mistakes do people make easily in daily use of under counter chiller?
Why filling under counter chillers can help improve energy efficiency

What is used to fill the under counter chiller to improve energy efficiency?

Misbehaviors to Avoid When Using an under counter chiller
Why filling under counter chillers can help improve energy efficiency
Every time the freezer is opened, cold air escapes and hot air flows in. Most of the energy used by the freezer is used to cool the air entering when the door is opened. When the freezer is full, there will be no more room for warmer air, and the items in it will help cool the air that does sneak in. Therefore, staying fully charged means reducing energy consumption. Fill the under counter freezer to improve energy efficiency. Defrost and dry the under counter freezer, move food with food to the front and sides so that you can quickly grab them when needed, and fill the inner central cavity with the non-food you choose Make sure there are gaps around the edges and the top so that the thermostat of the freezer can sense the temperature.
What is used to fill the under counter chiller to improve energy efficiency?
1. Newspapers: You can move food to the outside of the under-counter freezer and fill the interior space with newspapers.
2. Bags for transporting peanuts: These bags occupy a lot of space in most empty freezers and can be molded into shapes that fit the space.
3. Self-sealing bag filled with water: This not only helps to improve energy efficiency, but also keeps food cool when there is a power outage.
4. Reusable disposable plastic containers filled with water: These containers are stacked like building blocks, easy to access, and can be used for small gaps in the under counter chiller for storage.
5. Milk cans filled with water: This is useful for them if you want to reuse your milk can instead of recycling it.
Misbehaviors to Avoid When Using an under counter chiller
1. The set temperature is too high. Zero degrees (or lower) is the optimal temperature for long-term frozen food storage, so set the temperature of the under counter chiller as low as possible. And, if you find the ice cream too difficult to grab, store it on the hottest door.
2. Keep the freezer almost empty. A full under counter chiller is more cold-resistant than an empty undercounter. When you open the door, a lot of frozen food will help keep it cold, and the device doesn't need to cool the empty space as hard as it should. But don't squeeze the freezer under the counter. You need ventilation.
3. Not tightly wrapped food. Whether you use a freezer bag on the top of the zipper, aluminum foil, or heavy-duty plastic wrap, make sure to remove the air by smoothing the plastic wrap around the food. If you want to freeze in a storage container, fill it up almost to protect the leftovers from being burned by the freezer (but leave enough space to allow it to expand when frozen). When you are not cooking everything in the package (such as frozen waffles, hot dogs, or chicken nuggets), throw the rest into a sealed bag or container.
4. Freezing time is too long. Even frozen foods can end up deteriorating in taste and texture, so write the dates on bags and containers. Consider rotating items so that the oldest items are always on top, and they will be the first items you grab. Related: 12 Treatments You Can Do in an under counter freezer »
5. "Throw" food in the freezer under the counter. Buying bins in stores is a great way to fence small pieces or bizarrely shaped items, such as a bag of fruit, bagels, and parmesan crust.
6. Large pieces of frozen food. Place small items such as strawberries, hamburgers, and biscuits on a baking sheet to harden them before putting them in bags or containers. Then they will not freeze together and it will be easier to grab one at a time.
7. Wait too long and freeze. Although freezing preserves food, it does not restore its freshness. The minced meat on the freezing day is fresher than the meat frozen a few days ago. Similarly, muffins that are frozen immediately after baking taste better than old muffins.
8. Defrost at room temperature. If you thaw meat, poultry and seafood on a countertop, bacteria may grow on their surfaces before they are completely thawed. It can be thawed in an under counter freezer or microwave.
9. Open the underfloor freezer during a power outage. When the power is off, keep the under-counter freezer off to keep food frozen as long as possible. Anything still frozen can be kept in the under counter chiller after the power is turned back on. Any thawed items (but still cold) should be prepared and consumed immediately.
One trick to improving the efficiency of your underfloor freezer is to fill it up instead of leaving it empty, but only if you buy qualified equipment. If you want to buy high-quality under counter freezer with reasonable price, Meibaijia Electrical Technology Company can provide you with the best products.