How To Choose Refrigerated Display Cabinet
Views:3 Author:Site Editor Publish Time: 2020-02-13 Origin:Site
Cake display cabinet is an indispensable device for major supermarkets, convenience stores and cake houses. Since you want to buy a cake display cabinet, the first consideration is how to choose refrigerated display cabinet, so it is necessary to know the specification of the cake display cabinet before you choose it. Let's take a look.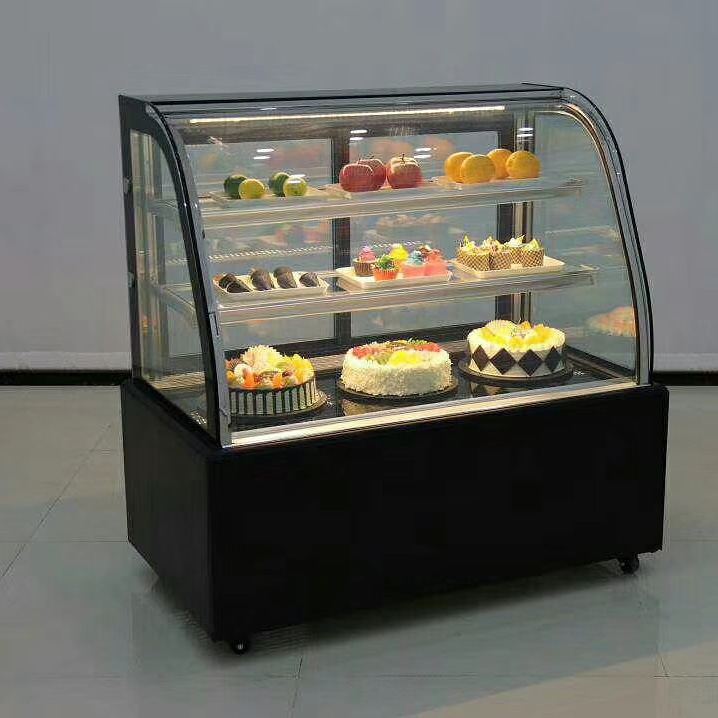 1. Glass door in all respects
Since the cake cabinet is used to display products, the exterior material needs to be completely transparent glass, so that it can attract consumers' attention when placing the product. If it is a cafeteria, you can choose a cake cabinet that equipped with sliding glass door in front, and consumers can take out food easily.
2. Marble or Stainless Steel base
The base material also needs to be paid attention to. The common base materials are stainless steel and marble and custom-made wooden base. Marble color is divided into black and white, the advantage is that the surface is smooth, easy to clean and care. The surface of the stainless steel base is also smooth, more refined and lighter. Here is a suggestion. For buyers who need long-distance transportation, it is recommended to purchase stainless steel and wooden base, which is lighter and easier to unload, install. Marbles may be cracked and damaged after a long journey.
3. Front heated glass
For cake cabinets with cooling function, front heating wire glass is necessary to remove mist. The fog in the front glass is caused by the temperature difference between the inside and outside. The heating wire glass can well solve this awkward situation.
4. Digital temperature controller
For refrigerated display cabinet, we usually have more accurate requirement for inside temperature, digital controller can adjust temperature easier and control it precisely.
5. Fan cooling system
Cake display showcase need air cooling system to ensure cooling effect inside cabinet, it's better than static cooling that work refrigerated effect via evaporator tube. Fan cooling will take electrical power to reach recycle Cooling.
6. LED lamp on shelves
Sweet food is attractive especially with warm LED lamp, we believe that placing this cake display will become the highlight of the bakery.
We hope your shop will have a big boom after equipping with refrigerated cake display, such as Meibca brand 1.2KBT fan cooling pastry cabinet, also export to India recently. Welcome to find more freezers via Meibaijia Electrical Technology Co., Ltd.