Combined Supermarket Cabinet Showcase
Views:11 Author:Site Editor Publish Time: 2020-03-06 Origin:Site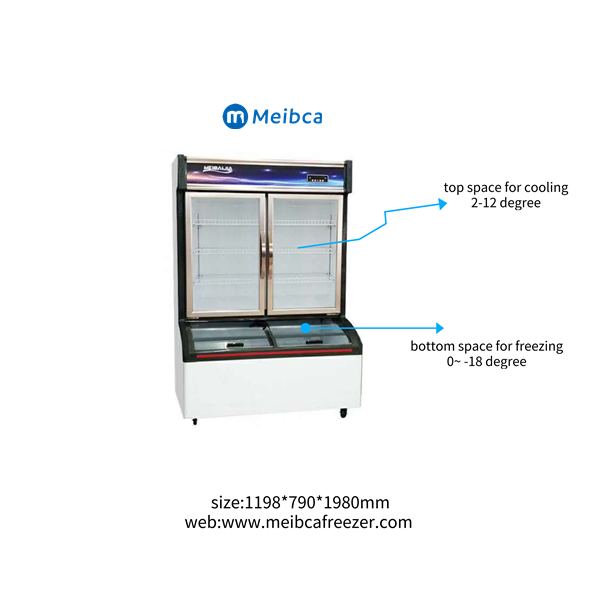 In early 2020, to satisfy the special needs of customers, MEIBAIJIA developed a new type of refrigerated showcase: combined supermarket cabinet showcase. Maybe you have seen this type in the market, this has been quite popular nowadays, so here we'll talk about the following aspects of such combined showcase:
1. The appearance of combined showcase
As you can see in the picture, this new type showcase is combined with two different freezers or chillers: the upper one is an upright cooler, which can be used to store fruits& vegetables as well as beverages; the lower one is a chest freezer, which can be used to store frozen foods. Actually if you don't see carefully, you'll find it just look like a vegetable showcase.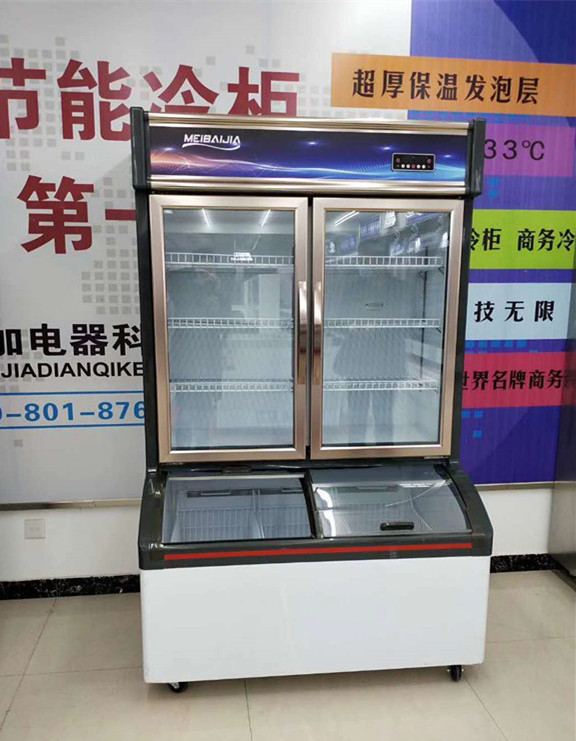 2. The function of combined showcase

Normally the combined showcase is required in small convenient store. They can sell both beverages and popsicles in one showcase. They need just one plug to realize the function of both freezer& chiller, it's very convenient for the vendor. Unlike home appliance, such commercial combined showcase is very simple in operation and functions.
3. The advantages of combined showcase
The new type exists for its own advantages:
a. As this one is combined with vertical cooler and chest freezer, it can save much space than two independent freezer and chiller. As the price of housing is rising, it's needful to try all means to save space and then save rental or use the saved space for other usage.
b. The new type can combine two functions in just one cabinet: both cooling and freezing function available in this showcase. In this way, customers can find their loved items(like ice lolly or seven up, sprites, coca cola) in just one place instead of searching in different areas.
c. If you buy two units for cooling and freezing, it'll cost the price of two cabinets. While if you buy one unit with two functions, it can save much money as well as electricity in some way.
In big supermarkets, multi deck chillers and island freezers are more popular for their appearance despite their sole function. While for small restaurants and convenient stores, such combined refrigerated showcase is the right choice for them to start business. If you need more info about combined showcase, welcome to contact us.